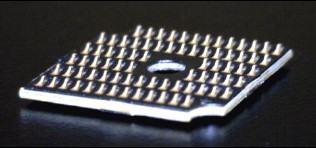 Neoconix announced today immediate availability of its new compression connector products specifically targeted at mobile electronics applications such as notebooks, digital still cameras, tablets and mobile phone handsets.
The products combine fine pitch PCBeam™ contact technology along with screw or surface mount clamping hardware to produce very small, low resistance, low signal loss connectors with exceptional shock, vibration and drop-test capability.
"Mobile products typically use many flex circuits with connectors to attach sub-assemblies like cameras, headphone jacks, LCD displays, and touch screen digitizers to the main logic board. With so many connectors and such limited space in these mobile products, all our customers place a premium on small footprint and thinness of the connector," said Woody Maynard, Sr. Director of Product Engineering.
"These market trends match very well with the fine pitch and low z-axis height inherent with the lithography and etch technology used in the PCBeam™ connector process. Just as important to our customers is that signal integrity and robustness in shock, vibration and drop tests is not sacrificed. With our connectors these attributes are actually enhanced."
The connectors come in two styles – surface mount clamp & screw-in. The screw-in products require only a single, miniature screw due to the small size of the connector. The SMT clamp products open and close with a simple built-in latch mechanism. In either configuration, flex/connector attachment and removal is very straightforward.
Neoconix offers a variety of area-array connectors with pin counts ranging from 10 to 80 positions and, with a 0.5mm mated thickness, provide the lowest profile flex-to-board connections in the world. Product specifications, drawings, and pricing are available by contacting Neoconix at sales@neoconix.com.
In addition, Neoconix continues to offer custom products, utilizing the unparalleled design flexibility of its lithography-based PCBeam™ connector technology. Neoconix products have been qualified through comprehensive EIA and MIL reliability standards, and are used in a wide range of mobile, commercial, and consumer products. All connectors are RoHS 2002/95/EC compliant.
Publish on Jun 1, 2012